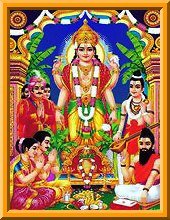 Satyanarayana Puja is one of the most popular puja in the world. As mentioned in the Puja katha, this puja can be performed in a simple way or a grand function depending on the capacity of the individuals. Our package consist of:
Pandit at your door step as per booking date & time
1 flower garland (small size) + 1 Tulasi Mala
5 types of flower (100grams total)
Standard evedam puja kit ( refer evedam puja kit in" eShop" for details)
¼ kg sweet ( Peda) as Prasadam
Satyanarayana Photo ( Laminated)
eVedam is committed in providing the end to end service to host all the pujas & events as per each customer's unique requirements. In order to book custom needs please send an email with your requirements at support@evedam.com or call us (details available in www.eVedam.com). We will get back to you ASAP.