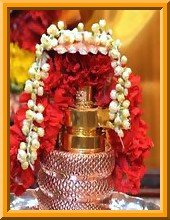 Rudrabhishekam will be chanted for 11 times (Ekadasha) along with Laghunyasa during the Abhishekha puja. This Puja can be performed on any day, during holy month of Sharavana or Karthika or on Shivarathri. Our Package consist of :
Pandit at your door step as per booking date & time
1 white color flower garland (small size) + Patra
5 types of flower (100grams total)
Standard evedam puja kit ( refer evedam puja kit in" eShop" for details)
¼ kg sweet as Prasadam
Spatika Shiva Linga Small
½ liter Milk for Abhishekam
eVedam is committed in providing the end to end service to host all the pujas & events as per each customer's unique requirements. In order to book custom needs please send an email with your requirements at support@evedam.com or call us (details available in www.eVedam.com). We will get back to you ASAP.