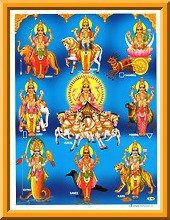 As the Name of the Puja suggests, it is the remedy puja performed to pray nine grahas. This Puja will be performed as per the individual or family planetary status & to avoid the dosha due to effect of planetary positions in the kundali (jataka). Our Puja package consist of:
Pandit at your door step as per booking date & time
2 flower garland (small size)
5 types of flower (100grams total)
Standard evedam puja kit ( refer evedam puja kit in" eShop" for details)
¼ kg sweet as Prasadam
Laminated Navagraha Photo
eVedam is committed in providing the end to end service to host all the pujas & events as per each customer's unique requirements. In order to book custom needs please send an email with your requirements at support@evedam.com or call us (details available in www.eVedam.com). We will get back to you ASAP.