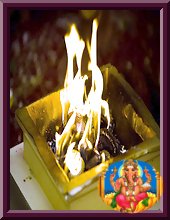 || Vakratunda Mahakaya Suryakoti Samaprabha. Nirvighnam Kuru Me Deva Sarva-Kaaryessu Sarvadaa ||
Ganapati is always worshipped before starting any Pooja or Homa. Lord Ganapati eradicates all difficulties faced by an individual. Ganapathy Homa will give prosperity, health, wealth and peace of mind to the individual who is performing it. Ganapati Homa should be performed on all possible auspicious occasions. He is worshipped for siddhi, success in undertakings, and Buddhi, intelligence. He is also the God of education, knowledge and wisdom, literature, and the fine arts. Lord Ganesha removes all obstacles. Lord Ganesha is also known as 'Vigneshwara' [vigna + Eswara] which means the lord who removes all obstructions (Vighna).
This homa can be performed monthly on Sankata Hara Chathurthi day (3rd or 4th day after Purnima) or during Ganesha festivals. This Pooja ends with Poornahuti. All the Pooja materials are available. Please opt for that during booking of the Pooja.